Roofing Services Hobart
Rampro Roofing is a family-owned and operated provider of the best quality roofing services Hobart and its surrounding areas have to offer.
Established in 2012, we are focused on providing premium roof leak services, roof plumbing services , and roof installation services using highest quality materials and exceptional roofing installation practises.
Being a renowned roof contractor with an ever-increasing client base, we have multiple divisions in our services portfolio.
Roof Installation Hobart
For the most reliable roof installation Hobart has to offer, contact Rampro Roofing. Our services range from large heritage roofing restorations to commercial metal and prestige residential roof replacements. Need Colorbond roofing installation? Discuss your project with our roofing experts.
Through strong supplier partnerships, skills and experience, we provide first-class roofing services and the right results for our clients. The reputation established by our work in these areas has enabled strong growth and we look forward to providing more roofing solutions in the future.
Where Do We Offer Our Roofing Services?
Our roofing services are available to our clients located in and around the area.
Roofing Services Hobart
Roofing Services Kettering
Roofing Services Montrose
Roofing Services Lindisfarne
Roofing Services New Norfolk
Roofing Services Huonville
Roofing Services Cygnet
Roofing Services Bellerive
Roofing Services Sandy Bay
Roofing Services Kingston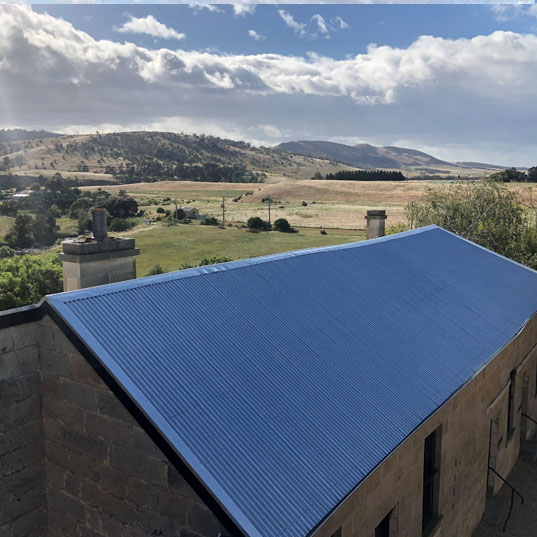 Why Customers Trust Us
We are passionate about what we do and take great pride in being a local business that truly understands the value of our clientele. Our skilled roofing contractors in Hobart have the right knowledge and experience to carry out a range of work, including roof restorations, roof repairs, and roof leaks.
We utilise only the very best products to ensure a superior finish. We offer free, no-obligation quotes for all roofing services and our staff will be happy to provide any information you may need to help with getting your roof fixed.
Here at Rampro Roofing, we take our work seriously.
As one of the most reliable roofing contractor Hobart property owners trust, we stand by our workwhich is covered by warranty for your peace of mind. We are also fully insured so you can trust in the safety of our work. We understand how important your property is to you, and make it a priority to take the same care with your roofing job that we would with our own home or place of business.
We treat your property with care and ensure all work is up to modern Tasmanian Building Code Standards. Once work is complete, all excess materials and rubbish will be removed, leaving you with a roof that will last for years to come.
For more details, feel free to give us a call on 0437 403 869 and look for Brian.
Why You Choose Us
At Rampro Roofing, our philosophy revolves around our aim to be dedicated professionals that always deliver the highest quality services and products to ensure customer satisfaction. We take pride in every job that we undertake to guarantee the highest levels of workmanship.
Service & Product Quality Guarantee
Free Design Consultation with No Hidden Fees or Charges
Trusted & Accredited Member of Master Roofers Tasmania
Competitive & Cost-effective Pricing
Ready To Get Started?
Not sure where to begin? Book your FREE Consultation today.