Roofing Company Hobart
Rampro Roofing was established in 2012 and has become one of the most well-respected and trusted family-owned roofing company Hobart home and commercial property owners have come to rely on.
We have a range of qualified roofers and roofing plumbers with extensive experience in the industry. Rampro Roofing is a roofing company in Hobart that is also a member of Master Roofers Tasmania, a division of the Master Plumbers Association of Tasmania Inc.
Roofers Near Me
Roofers near me – if you are searching for this phrase on your computer or phone, no need to search anymore. Rampro Roofing is the one that you can call if you need the help of commercial or residential roofing experts for your Hobart properties.
At Rampro Roofing, we have high standards which is why we only use BlueScope and COLORBOND products which comes with a 30-year warranty.
Trust Us to Help You Forget Your Roofing Worries!
Our team members are very knowledgeable and experienced so you can be rest assured that they know what they are doing thus allowing our company to offer roofing services that are –
Reliable
On par with Tasmanian standards
Results-oriented
Our team members on-site will always offer you the right advice to help you achieve what you want out of your project in the most efficient and economically pliable manner.
We have the latest range of equipment. On top of this, we continually subject our team members to training and knowledge enrichment about in the latest methods, techniques, and innovations pertaining to our business sector. Thus, we are known among the top roofing companies in and around Tasmania. So you can stop searching for a roof company near me and give us a call.
We Are a Fully Licenced and Insured Company
We have all the necessary permits from apex Tasmanian authorities that ensure we have the trust and confidence of all our clients. Our ABN is 28 122 047 154.
We Use Nothing but The Best Products from Trusted Brands
We have long-standing partnerships with renowned companies that manufacture quality roofing materials and fixtures like –
BlueScope Steel,
COLORBOND, and
Blue Mountain Mesh.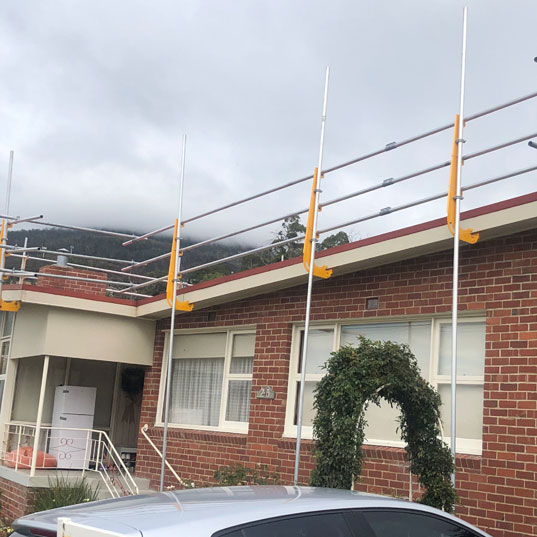 We Offer A Wide Range of Services
Our range of services, over the years, has multiplied by several folds. Here is a generic overview of the range of roofing services you can avail from us –
Supply of roofing materials
Roof repair
New roofs
Roof plumbing
Re-roofing
Fascia
Guttering
Roofing services
Gutter guards
Roof installation
Wall cladding
Downpipes
COLORBOND fencing
Installation, maintenance, and servicing of roofs.
We Have a Strict Quality Policy
We will deliver services that consistently conform to or exceed our customer's expectations. We will pursue continual improvement in all our systems and processes as our means of achieving a "preferred roofing company" status. Here's your answer if you are still searching for the phrase roofing company near me on the internet!
Improvement will be achieved through our commitment to our integrated management system, which provides a framework for establishing and reviewing objectives for continual improvement.
We involve all employees in a professional environment that encourages initiative and innovation.
We will accomplish our business objectives as a responsible and ethical member of our community, sensitive to the social and environmental impact of our actions. Our employees understand and comply with our quality policy.
We Have An Effective Approach
As a reliable roofing company in Hobart, the following attributes best describe our approach:
We will ensure that professional standards are always implemented.
We are known for our excellent customer service as we emphasise on being approachable and communicative.
We listen to your needs.
We deliver quality-assured results and that too at reasonable rates.
Projects are completed on time every time!
For more details, feel free to give us a call on 0437 403 869 and look for Brian.
Why You Choose Us
At Rampro Roofing, our philosophy revolves around our aim to be dedicated professionals that always deliver the highest quality services and products to ensure customer satisfaction. We take pride in every job that we undertake to guarantee the highest levels of workmanship.
Service & Product Quality Guarantee
Free Design Consultation with No Hidden Fees or Charges
Trusted & Accredited Member of Master Roofers Tasmania
Competitive & Cost-effective Pricing
Ready To Get Started?
Not sure where to begin? Book your FREE Consultation today.