Commercial Roofing Hobart
Regardless of what type of commercial establishment you have, you can be rest assured that our record as one of the safest providers of commercial roofing Hobart property owners trust is one of the highest in Tasmania and thus creating continuous and stable workflow for many businesses.
On a commercial property, roofs can be an overlooked aspect of the building until a problem arises. Commercial buildings need to be safe and reliable to ensure that whatever business is being carried out, whether it is a restaurant or a retail shop, its operating premises are uninterrupted and dependable. This is why having a fully secured roof that you trust will protect your building for years to come is a necessity, not luxury.
At Rampro Roofing, we only employ the highest quality roofers for roof maintenance as well as commercial roofing and cladding works; most of our team members have years of experience. They are experienced in all forms of commercial roof repair and commercial roof replacement services. On top of this, since we are a reputed commercial roof contractor ,we provide our dedicated commercial roofing team with training that consists of the latest commercial and industrial roofing techniques, standards as well as inductions.
Commercial Roof Repairs Hobart
Apart from replacing the entirety of the roof, our roofers are also the experts in commercial roof repairs Hobart residents can rely on. We can complete anything from larger commercial repairs to minor issues in a bid to ensure that the issues with the roof of your commercial property will not lead to bigger problems later on.
If you notice even a small issue with your commercial roof or if you need roof cleaning and maintenance, we advise you contact us as soon as possible to ensure the small issue does not create a bigger problem.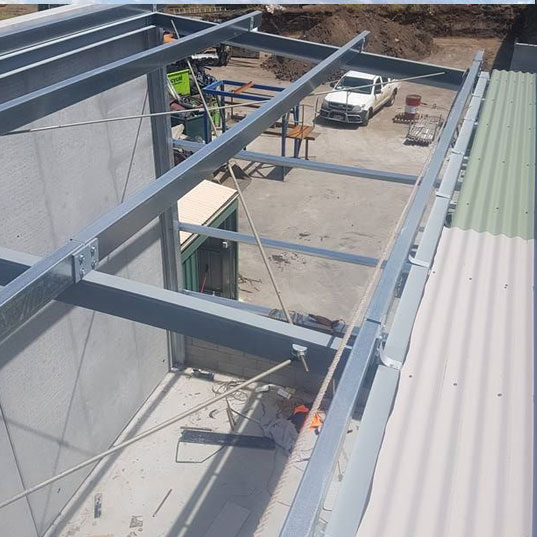 What are the Unique Selling Points of this service?
Well, we are capable of –
Installing new commercial roofs and
Conducting commercial re-roofing services
As well as installation, re-roofing, and maintenance of –
Warehouse roofs
Heritage roofs
Service station roofs
Club roofs
Clip-lock roofing and roof rack systems
Bondor panels
On top of these, we will be using our in-house designed quick stage scaffolding at your property in a bid to complete the job assigned to us in no time.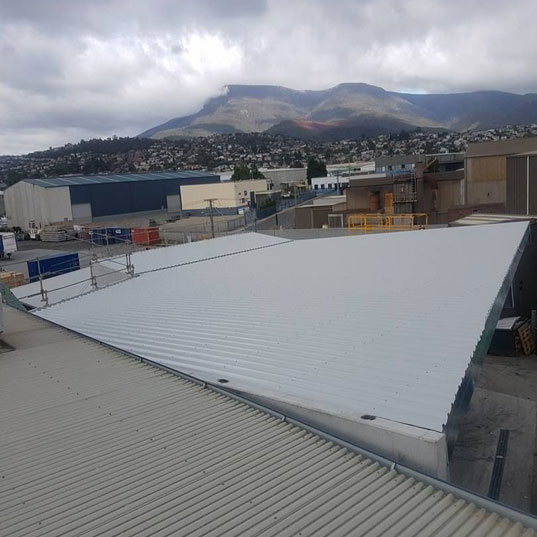 Where Do We Offer Our Commercial Roofing Services?
Our commercial roofing services are available to commercial property owners located in and around –
Commercial Roofing Hobart
Commercial Roofing Kettering
Commercial Roofing Montrose
Commercial Roofing Lindisfarne
Commercial Roofing New Norfolk
Commercial Roofing Huonville
Commercial Roofing Cygnet
Commercial Roofing Bellerive
Commercial Roofing Sandy Bay
Commercial Roofing Kingston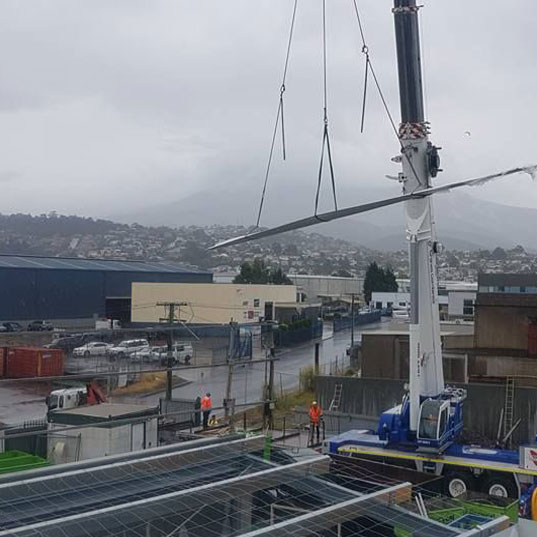 Why You Should Trust Us?
Rampro Roofing provides the best commercial roofing Hobart has to offer. Our services include installation, repair, replacement, and maintenance services that come with a workmanship guarantee. Whether you are a developer or an existing commercial property owner, we can help you. Our experienced commercial roofing team have done jobs from small pavilions to large apartment complexes and warehouse/factory complexes.
It is not always necessary to perform a full re-roof of a commercial roof. Where the integrity of the roofing sheets is still intact, we recommend that you choose our commercial roof repair service. We often find on older buildings that it is the screws and laps of roofing sheets that fail first. We can simply remove the affected areas of the roofing sheets and replace all roof screws. This can save many thousands of dollars on a new commercial re-roof.
Considering the level of service we offer to all our clients, our prices are very competitive. Whether you need industrial or commercial metal roofing quotes for your business or a relatively simple roofing repair, we will provide you with a standard of work and service that's above and beyond what our competitors can offer.
For more details, feel free to give us a call on 0437 403 869 and look for Brian.
Why You Choose Us
At Rampro Roofing, our philosophy revolves around our aim to be dedicated professionals that always deliver the highest quality services and products to ensure customer satisfaction. We take pride in every job that we undertake to guarantee the highest levels of workmanship.
Service & Product Quality Guarantee
Free Design Consultation with No Hidden Fees or Charges
Trusted & Accredited Member of Master Roofers Tasmania
Competitive & Cost-effective Pricing
Ready To Get Started?
Not sure where to begin? Book your FREE Consultation today.